Premium Support & Service
Automatic Tube Cleaning System for Multiple Chillers with Pump
| | |
| --- | --- |
| Brand | GK Infra Engineers |
| Power Source | Electric |
| Usage | Industrial up to 5 chillers |
| Cleaning System Type | Multi chillers |
| Phase | 3 Phase +  Neutral |
| Voltage | 415 V |
| Frequency | 50Hz |
| Automation Type | Automatic |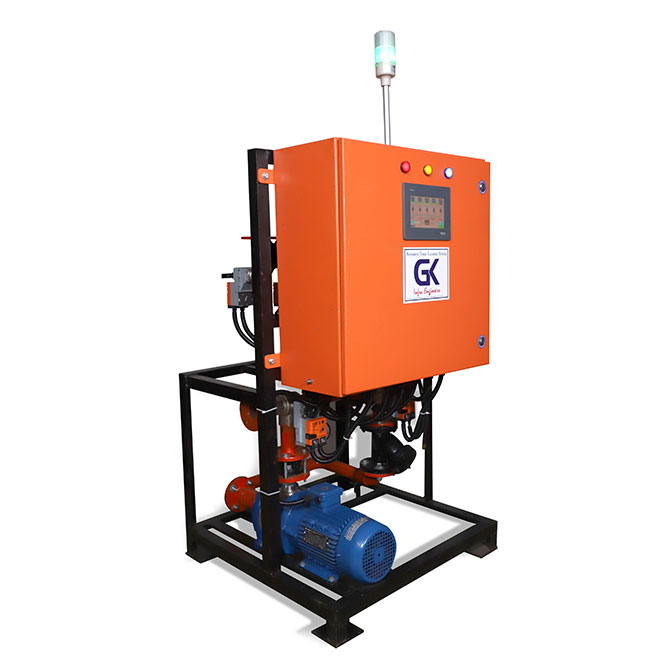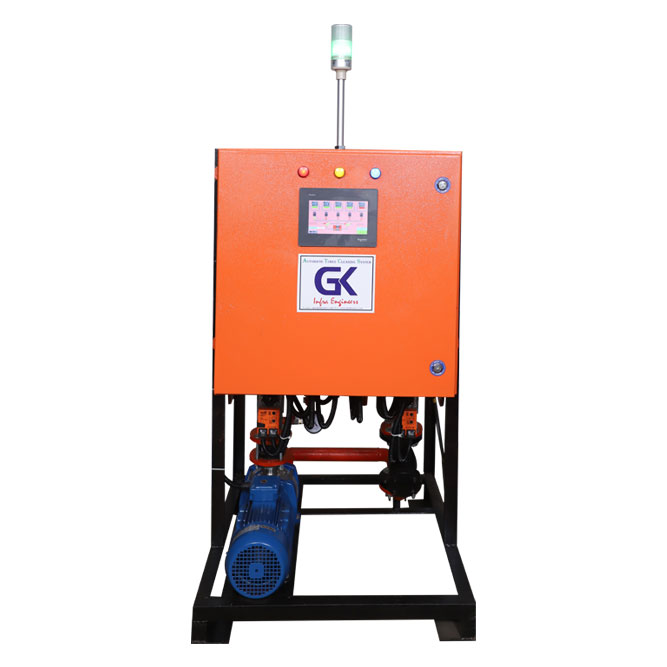 Sponge balls resting in the Ball Collector are periodically injected to the condenser cooling water inlet pipe by the operation of a booster pump and control valves mounted on a Skid.
These balls travel with normal condenser water flow in the condenser and pass through the tubes. While passing through the tubes ball carries away all the Soft Scales and deposits accumulated on the inner surface of the tubes and so keep the tubes continuously clean. The balls come out of the condenser from the outlet side of the condenser to and get trapped in the Ball Trap, while hot return water goes to the cooling tower.
Ball trap is installed on the cooling water return pipe. Once all the balls are out of the condenser and get trapped, these are pulled back and washed in the Ball Collector by operation of the same booster pump and control valves mounted on a Skid. The cycle is repeated every 10 to 30 mins to ensure 100% tubes get cleaned.
The operation is Fully Automatic Controlled through PLC Controller with NO Human intervention.
We offer International Warranty. All Components are from Global Manufacturers. Spares are available in any part of India or World. NO DEPENDENCY for spares on us. Spares/Service can be sourced from open market.
100% Chemical Free System.
Ball Collector and Ball Trap are HOT DIP GALVANISED for much longer life.
TOWER LIGHT with buzzer for Annunciation from a distance in noisy atmosphere of Plant Room.
SEVEN INCH Multi colour Touch Screen HMI.
COMPLETE SYSTEM GRAPHICS on HMI Screen for easy monitoring of system.
Same P&I diagram for Steam Condensers, Ammonia Condensers, Chillers, VAM etc.
MULTIPLE CONDENSERS can be cleaned by Only One Skid. Maximum up to 5 working Condensers / Chillers can be cleaned by only one skid.
MAXIMUM SAFETIES for all the Operational Components. Apart from MPCB, MCB, Under/ Over Voltage, Phase sequence and Single Phasing Protection are provided for Pump Motor Protection.
In most of the sites NO WATER DRAINAGE from Common Header, can be installed on standby condenser / chillers while other connected can continue working.
ALERT on Balls change period.
CHILLER BYPASS FACILITY.
UNIVERSAL DESIGN OF BALL TRAP. Can be installed in Horizontal / Vertical pipeline OR at BEND of pipe.
Ball Trap comes with Openable Cover for cleaning of mesh and Trap.
Alert on Increase of Condenser Approach through Parameters monitoring on SCADA / BMS (optional).
Fully SCADA / BMS compatible via Modbus (optional).
Remote monitored/controlled (optional).
Ball Counter (optional).